Hello lovelies!
If you're anything like me, you like to get your holiday shopping done early. I like being able to spread out purchasing gifts for my loved ones so I don't feel it in my bank account all at once. So, I figured I would create a Holiday Gift Guide 2018 starting out with gifts for her!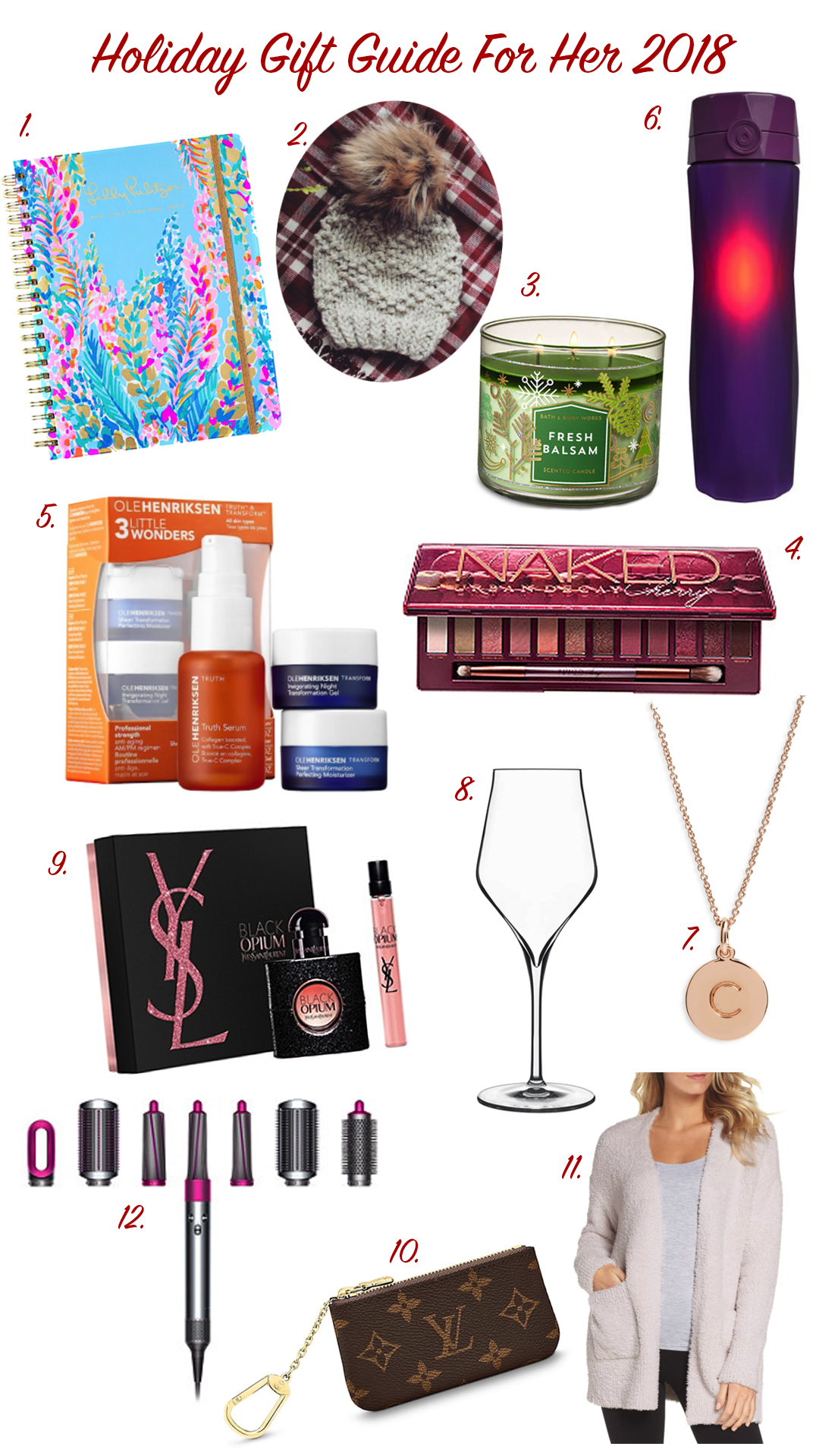 Under $50
1. Agenda: These Lilly Pulitzer Agendas are my all-time favorite! They are so bright and colorful! I actually own two, a small one for personal use and the jumbo size for work. They make a great gift towards the end of the year for those who want to start the year off organized! (Available on LillyPulitzer.com)
2. Knit Hat: These Black Paw Creations hats are so soft and WARM! They are handmade locally with such amazing quality and they make for a wonderful gift. Bonus: The poms are detachable so you can swap them out! How cool is that?! Did I also mention I have a coupon code for you guys?! Use code NATASHA15 for 15% off your order! (Available on BlackPawCreations.com)
3. Candles: Okay, but who doesn't love candles?! I am in a much better mood when my house smells great. Give the gift of great moods! (Pictured: Bath & Body Works – Fresh Balsam)
4. Urban Decay Naked Cherry Palette: This palette is STUNNING! Urban Decay Naked Palettes are always top quality and are the perfect present for the makeup lover in your life. (Available at Ulta)
5. OleHenriksen Mini Three Little Wonders Set: This set was on my list last year and remains on my list this year! I SWEAR by this brand. My skin has never. looked. better. Packed with anti-aging ingredients, this is gold for skincare lovers and this mini set is a great way to try out these best-selling products! (Available at Sephora)
6. Smart Water Bottle: This is the perfect gift for someone who needs to be constantly reminded to drink more water (aka me). It lights up to remind users to drink, tracks how much you drink, and syncs with your Fitbit, Apple Watch, and more! (Available at HidrateSpark.com)
Under $100
7. Initial Necklace: These are EVERYWHERE and I wear my boyfriend's initial every single day. They are super trendy and make for a cute, personalized gift that will make her smile! (Pictured: Kate Spade)
8. A NICE Set of Wine Glasses: Chances are, you've given a wine glass covered in puffy paint to a friend, but do they have a nice set of wine glasses? If you're getting into your late twenties, this would be a great gift for the maturing adult. (Pictured Set Available at Nordstrom)
9. Perfume Set: Who doesn't love to smell good, right? YSL Black Opium smells AMAZING! Fragrance notes include vanilla bean, white flowers, and black coffee. It's seductive yet feminine. Plus, this set comes with a regular bottle AND one for your purse! (Available at Ulta)
Splurge
10. Louis Vuitton Key Pouch: I may or may not be considering this as a Christmas gift for myself… This is a great gift for the luxury goods lover while not spending an arm and a leg. The key pouch is perfect for credit cards and cash or to protect your keys inside of your handbags. Trust me, if she doesn't have this yet, she will love it. (Available on LouisVuitton.com)
11. Barefoot Dreams Cardigan: This cardigan is like being wrapped up in a blanket 24/7, only you're wearing it. Perfect for lounging around the house while you open Christmas gifts and enjoy holiday cookies. (Available at Nordstrom)
12. Dyson Airwrap Styler: This is so pricey it is not even funny but if you're looking to splurge, this is a revolutionary hair tool. If you've heard of the unique Dyson hair dryers, this is a set that not only comes with a hair dryer attachment, but also two barrels that self-curl your hair. It's unbelievable, I know. Users say their hair has never been smoother and they love that they're using less heat on their hair. If you can snatch this up since it is sold out everywhere, I'm sure the beauty lover in your life will be both surprised and thrilled. (Available at Ulta)
That's all for now! Stay tuned for my gift guide for him coming soon!
Xo, Natasha