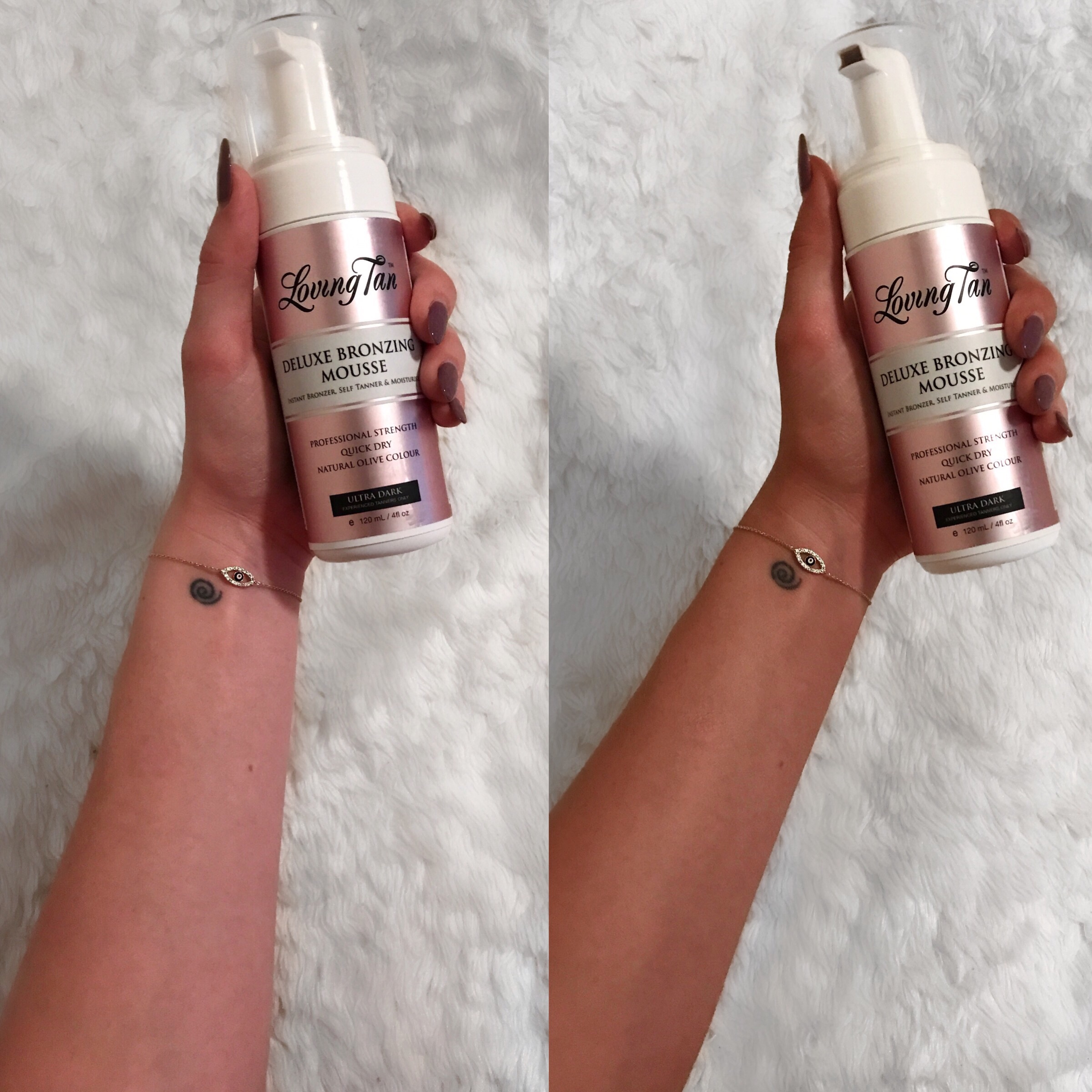 The secret is out! I am actually ridiculously pale. But it hasn't always been this way. In high school, I used to frequent the tanning bed. However, my junior year of college, I went on a serious acne medication called Accutane. I wrote about my full experience in a previous blog post found here but the point is, I could no longer tan. Like, I actually had to stay far, far away from the sun because the medication made my skin so sensitive. It has been years since I have been off the medication and I am still very sensitive to the sun. I usually get a weird painful, red, prickly rash, and then it goes away without leaving a tan behind. Thus, I have been forced to find a tan from a bottle.
I first heard about Loving Tan from a few YouTubers who SWEAR by this self tanner. After trying multiple tanners ranging from Jergens to St. Tropez with disappointing results, I decided to give Loving Tan a try. I ordered the Deluxe Bronzing Mousse in Ultra Dark because I wanted to get the darkest tan I could. This mousse fully develops in 8 hours but there is a color guard so you have an idea of how dark you will be. There is a 2 hour mousse, but it doesn't come in Ultra Dark so I stuck to the 8 hour. Because I heard about this from YouTube, I also found an assortment of coupon codes to use when ordering. Using the code "Casey" will get you a tan exfoliating mitt, which I will get into later, use the code "Abigail" for a free application mitt, which I will also get into later, or use "Rhaeagift" for a free easy to reach, back applicator. Though the brand is Australian, I always receive my Loving Tan order in the U.S. within a couple of days.
Now to the routine!
Self Tan Routine
Exfoliate

You want to do this no less than 24 hours prior to self tanning. I use the exfoliating glove with a scrub like this one all over my body to remove any leftover tan I have and get rid of any dry or dead skin. Again, do not exfoliate right before you self tan or it will come out streaky.

MOISTURIZE

This is CRUCIAL! Always apply lotion after you exfoliate. I usually shower in between exfoliating and applying the self tanner but lightly moisturize dry areas like elbows, knees, and feet again right before I apply the tanner. This helps the mousse go on smoothly and stay on longer. Just make sure the moisturizing lotion absorbs into the skin a bit before applying the tanner.

Tan!

I always self tan in a well-lit room with a mirror. This helps me to see so I can apply the mousse evenly and I do not miss any spots.
I usually self tan in the morning and let myself dry fully as I am getting ready for the day. Loving Tan dries pretty quickly, it usually takes about 20 minutes for the mousse to completely dry. I know many people self tan at night and if that is something you would rather do, my only suggestion is make sure you are fully dry before you get in bed. I used to be a bit impatient when I self tanned at night and would get some of the tanner on my sheets because I did not wait long enough for the product to dry or I would sweat some of it off if I got too hot at night before the 8 hour development had passed.
Before I used a mitt from Loving Tan, I used a $6 mitt from Ulta. It worked great and it was such a bargain. Then I tried the mitt from Loving Tan. Though it was incredibly soft, it did not put as much product on my skin as I wanted. It was almost as if the mitt absorbed the mousse. I went back to my $6 mitt and haven't gone back since.
When applying, I squirt two pumps directly to my glove and begin to blend the mousse in circular motions by sections such as one arm at a time, my neck and chest, my stomach, etc.
For my hands and toes, I use a brush to blend it in. A blending brush from Elf like this one will do!
I do NOT tan my face. Some people do, and this product is safe to use on your face, but my skin is way too sensitive for me to risk it. I compensate by using darker foundation to match the rest of my body.
Make sure you check your body for any missing spots after you have applied the self tanner.

Wait for it to dry

I take this time to do my makeup for the day, dance around my room naked, etc. I try not to put clothes on as long as possible to ensure it is completely dry.

Do not shower for about 8 hours

Though you may look tan thanks to the color guard, that 8 hour develop time means you cannot get wet for a full eight hours while it dries.

When you shower, do not scrub

The first shower post-tan rinses off excess tan. Do not scrub or it will come off.

MOISTURIZE (Again)

Moisturize frequently to extend the duration of the tan.
Quick Tips & FAQ's
My Loving Tan self tanner usually lasts about a week.
The color is a natural, olive tone, it does not come out orange in the slightest.
Other self tanners I've tried have a slight green cast to them, but this self tanner is more pink-based, which goes with my skin tone so much better.
As long as you wait for the tan to dry and you don't get wet or sweat too much before the 8 hours, this self tanner will not transfer on your clothes.
However, for events I recommend tanning two days prior. This way, the tan can fully develop and you will have time to apply another coat if needed.
It doesn't really have a particular smell like other self tanners do.
Take your time! You want to give yourself plenty of time to make sure it is well blended and dry.
Overall, I highly HIGHLY recommend this self tanner. It is by far the best one I have tried. You can find it here!
That's all for now everyone! If you have any more questions about my self tanner or the routine, just leave a comment down below! Hope you lovelies have a wonderful weekend!
Xo, Natasha
Useful Links
Loving Tan's Website: LovingTan.com
My Social