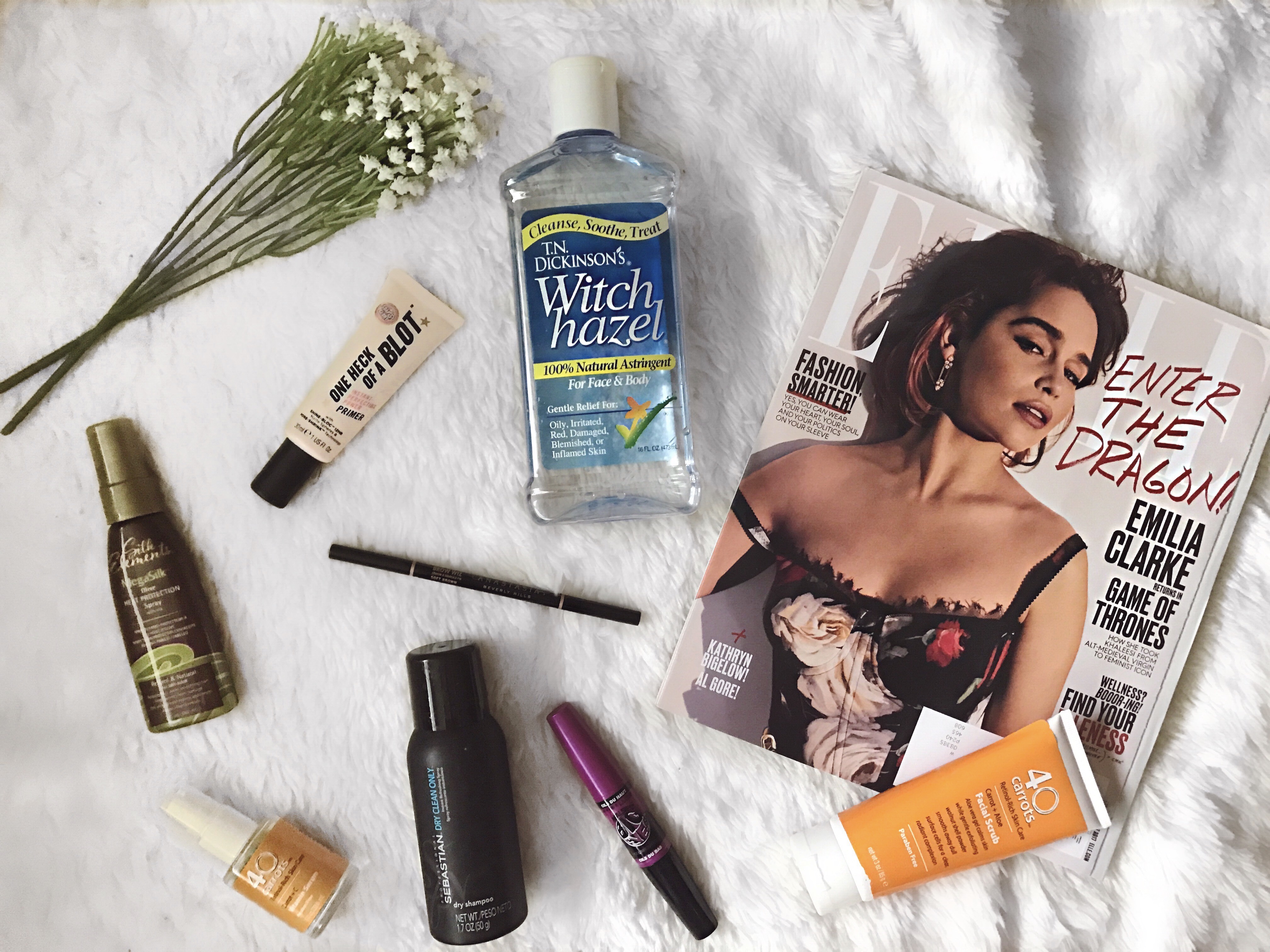 Hello lovely people! I am a bit late to the game with my monthly favorites but I figured I would still share what I kept reaching for this month. I started to pay more attention to my skin this month so I have some great face products as well as some makeup and a TV show favorite. Let's jump in!
Beauty Favorites
Witch Hazel
As I mentioned, I focused more on skincare this month rather than picking up more makeup. I am honestly not entirely sure where I heard about Witch Hazel… could have been my mother, could have been my dermatologist, but I am so glad I did. I noticed this month that my Neutrogena Makeup Remover Wipes did not actually get all of the makeup off of my face. I began to use Witch Hazel to remove the remaining foundation on my skin so that when it came to using my cleanser, it would actually clean my skin instead of the layer of makeup on top of my skin. I also use it as a toner after washing my face. My skin has been extremely clear this month since I began using this product, and I am 99% sure it is because of Witch Hazel. Get it here.
40 Carrots Facial Scrub
I also realized this month that I have been seriously slacking on exfoliating my face. I picked up this scrub at TJ Maxx and I LOVE it. It is abrasive enough to exfoliate but not to a point where it destroys my sensitive skin. I use this roughly every other day or every two days. Along with the Witch Hazel, I am attributing this scrub as another reason my skin has been clearer this month. Pick yours up here.
40 Carrots Vitamin Serum
I have been using this product on and off for probably a couple of years now but I began strictly using it as part of my daily routine this month. I apply this twice a day, morning and before bed, after I tone my face with Witch Hazel. It has a strong citrus smell and my boyfriend LOVES it. He's always smelling my face before bed. My mom also uses this product and I will literally try anything she uses because she looks half of her age and I pray that I will age as gracefully as she has. Pro Tip: Apply it to your neck to prevent fine lines as well. I picked this up at TJ Maxx too but you can also get it here.
Soap & Glory One Heck of a Blot Primer
Because my skin was not behaving so well, I took a look at makeup products that I have recently introduced that may be the reason for the breakouts. I stopped using primer for a short length of time while I tried to get my skin under control with my new regimen mentioned above. However, I needed something to help me from getting ridiculously oily halfway through the day. Then, I heard about Soap and Glory's One Heck of a Blot primer. I decided to try it out and it has become my new favorite. It prevents my skin from looking like an oily mess and it helps my makeup go on nice and smoothly. I have forgotten to put it on before makeup and I can tell a difference when I do not use it… That's how you know it's good. You can snag this primer at Ulta, Target, or Walgreens.
Anastasia Brow Wiz in Soft Brown
Because I have been dying my hair lighter, I wanted to go lighter with my eyebrow pencil. However, for the summer, I wanted something a little more natural than the dip brow so I picked up the Anastasia Brow Wiz in Soft Brown. It is so easy to fill in my brows in the morning and it doesn't draw too much attention to them when I fill them in. I hate when I look at my face and only see my eyebrows standing out so this pencil is perfect for those look-like-you're-not-wearing-makeup days. Pick up this magical product at Ulta.
Maybelline Big Eyes Mascara
Since I recently got my lash extensions back. (Which are a favorite in themselves!) I was looking for a mascara that could coat my bottom lashes with ease. I considered the Clinique Bottom Lash Mascara but ultimately went with a drugstore alternative. Maybelline Big Eyes Mascara has two wands, one for top lashes and one for bottom. I obviously only use the bottom wand and it is great. It is very skinny, easy to work with, and it doesn't get everywhere and make a mess of my makeup. AND it lasts all day long without smudging. Score! Available at most drugstores or get it here.
Sebastian Dry Clean Only Dry Shampoo
I was a little lazier with washing my hair this month and fell in love with the Sebastian Dry Clean Only Dry Shampoo. I have tried drugstore dry shampoos from Suave and TRESemmé but they always left a gray cast in my hair. I am too scared to try Batiste as I have heard horror stories of it making your hair fall out. I received a package from Sebastian Hair Products, which included a travel size of this dry shampoo, so I tried it out. Holy cannoli I don't know where this thing has been all my life but I am so glad we met now. No gray cast, makes me look like I just washed my hair that morning, and so easy to work with. This is the only dry shampoo I will use from now on. Get yours at Ulta. ON SALE FOR 50% OFF!
Silk Elements MegaSilk Heat Protection Spray
I have used Silk Elements Heat Protection Spray for a few years now so after running out, I went into Sally's Beauty to pick up a new bottle. The issue was I could not remember the name of the brand and I could not find the bottle that I'm usually able to identify anywhere. I felt awful for the girl who worked there because I was absolutely no help when I said, "The heat protection spray that smells really good!" I finally figured out the brand and discovered they switched up the packaging. This Olive one smells differently than my old heat spray however I am obsessed with it. I also noticed sometimes with the old spray if I put too much product on my hair, it would turn greasy but I have not had that problem with this product. They were sold out of the full size bottle when I went in so I had to pick up a travel size, the bottle is not typically as small as pictured above. Available at Sally Beauty.
Entertainment Favorites
Game of Thrones
I have finally joined the rest of civilization and started watching Game of Thrones. I always had the intention to watch it so I have managed to dodge several spoilers since the show's premiere and I am currently on season 2. While it is a bit difficult to follow sometimes, it is dramatic, humorous, and thrilling and I am completely hooked. I doubt it will take me very long to catch up. My favorite character isn't dead yet so I'm hoping it stays that way. *Fingers crossed*
That's it for my monthly favorites! Make sure you check back next week because I will be talking about my SKYDIVING experience! Until next time, beauties!
Xo, Natasha
Useful Links
My Social