Hello lovelies!
In case you missed it, I did a Holiday Gift Guide For Her last week so I thought it was only fair to do a gift guide for him as well! I know that I always struggle to pick out gifts for my dad and my boyfriend so I tried to come up with a diverse list for any type of guy in your life! Hope this helps you out this holiday season and if it does, be sure to leave a comment below!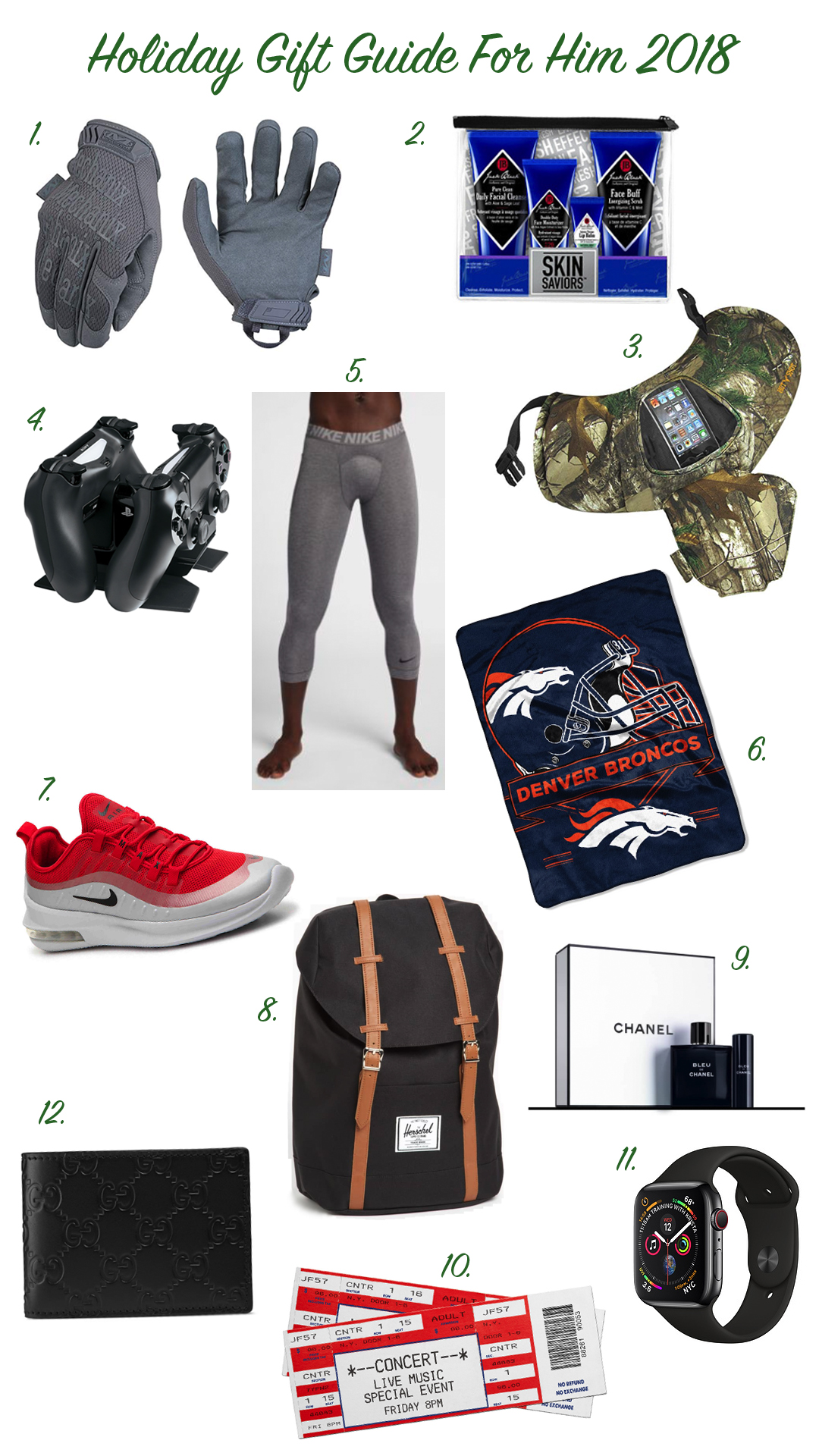 Under $50
1. Mechanix 'The Original' Gloves: My dad SWEARS by these gloves. He uses them to work in the cold and he says it doesn't even feel like he's wearing anything. They are incredibly flexible but still protect your skin from the cold. (Available on Amazon)
2. Jack Black Skin Saviors Set: I don't want to hear it, everyone needs to moisturize and take care of their skin, especially in the winter. This is a great set complete with a facial cleanser, scrub, moisturizer, and lip balm. (Available at Ulta)
3. Textpac Hand Muff: Great for hunters, this hand muff keeps your hands warm with a clear window so you can use your phone until that buck comes along. (Available on Amazon)
4. Charging Dock: The gamer in your life will thank you for this charging dock! This one that I've linked charges two controllers simultaneously. (Pictured: PowerA Playstation 4 DualShock Controller Charging Station – Available at Target)
5. Nike Dri-Fit Men's Utility 3/4 Training Tights: My boyfriend tells me these are great for running in the cold, wearing during indoor sports to avoid turf burn, and layering under clothes during hunting and other activities. Plus, the 3/4 length is super trendy among NBA players right now. (Available ON SALE at Nike.com)
6. Oversized Blanket of His Favorite Sports Team: Tall guys often get the short end of the… blanket. This blanket is 60″ x 80″ which is long enough to keep even the tallest guys warm. (Available at NFLShop.com)
Under $100
7. Sneakers: A fresh pair of kicks is sure to make a guy smile. And you don't always have to spend an arm and a leg, DSW has a great selection of Nike sneakers under $100! (Pictured: Nike Air Max Axis Sneaker Available at DSW)
8. Herschel Supply Co. 'Retreat' Backpack: This is a great gift for the guy on the go. Perfect for carrying a laptop for work or an overnight bag. (Available at Nordstrom)
9. Cologne: If you're giving this to your boyfriend, it is also a gift for you, just saying. One of my favorite scents for men is Chanel Bleu De Chanel. It is described as woodsy with hints of citrus. Plus, this set comes with a travel size! (Available at Nordstrom)
Splurge
10. Tickets to an Event: One of my favorite gifts to give is an experience. It is a great way make memories together for years to come rather than giving a gift they could forget about. In the past, I have bought tickets to Supercross and a Yankees game but a concert, play or musical, or other sporting event would be other great options!
11. Apple Watch: This is a given. I feel like I am the only one in the world without an Apple Watch. Don't let the guy in your life be like me. It is a great fitness tracker and an easy way to be hands-free. My boyfriend works in construction and he doesn't always have his phone on him so if there was ever an emergency, he could still get my call or text. If you spring for cellular, he can even listen to music while doing cardio instead of lugging his phone with him. (Available on Apple.com)
12. Gucci Wallet: For the fashionable man in your life, this Gucci wallet is luxurious and pretty decently priced. (Available at Nordstrom)
If you want any other gift guides for say your mom or dad, or for a younger niece or nephew, let me know! These are super fun to create so I'd gladly create another one for you! In the meantime, I will be putting up my Christmas decorations this weekend so the holidays will be in full effect! Until next time!
Xo, Natasha