Hey everyone! Today, I am discussing my favorite things for the month of March. I tried out quite a few new makeup products, picked up a fabulous tote bag, and got hooked on a new Netflix show this month so let's jump right into it!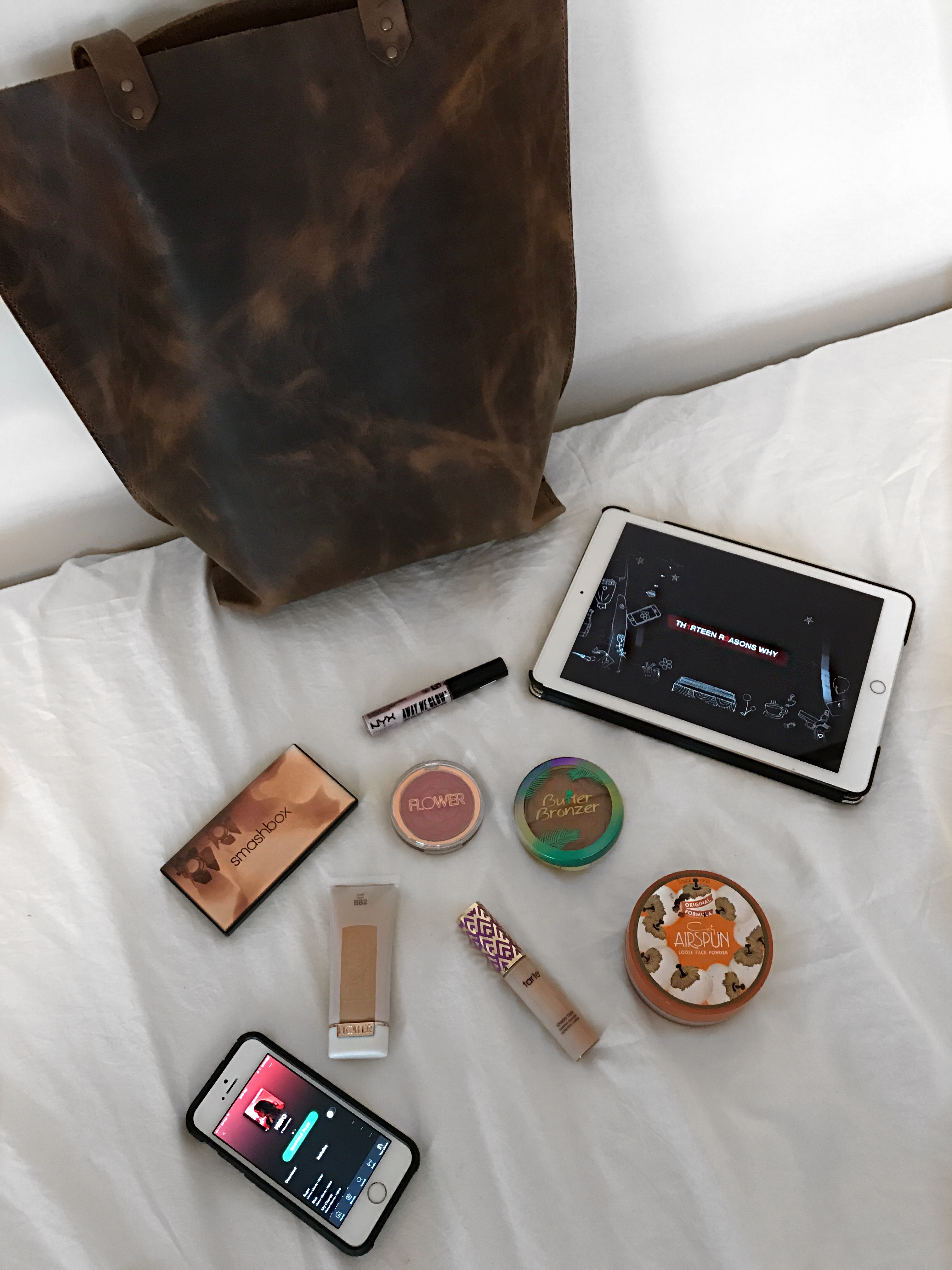 Fashion & Beauty Favorites
Flower Beauty BB Cream
Add this to the ever-growing list of things Casey Holmes made me buy… I am absolutely obsessed with this BB cream. When they say it is full coverage… honey, they mean full coverage. This BB cream does a great job of covering up any discoloration I have while still looking natural. But my favorite part? It stays put and MATTE all. freaking. day. Go do yourself a favor and pick this baby up. Available in Walmart stores for about $12 and on their website here.
Tarte Shape Tape Concealer
Holy cannoli why did I not try this concealer sooner?! The hype is REAL on this one. It is great at covering dark circles without creasing or caking. I also use it to highlight my face a little on my forehead, nose, and chin, and it doesn't break me out. Pretty sure this will be my holy grail concealer for a while. Available at Ulta for $25.
Coty Airspun Translucent Extra Coverage Powder
I CANNOT say enough good things about this powder. I am telling you I went from $40 Laura Mercier Translucent Powder and this stuff is BETTER! It is so great for baking and it helps keep me matte all day. I went from blotting at least 2-3 times a day to barely needing to blot at all. For $6 you absolutely cannot beat it! Available here, here, and drugstores all over.
Physicians Formula Butter Bronzer
I was nearing the end of my L'Oreal Glam Bronze Bronzer so this month I started looking for a good all-over bronzer. And surprise, surprise, this was another #CaseyMadeMeBuyIt product. I love watching her videos because she always has a great mix of high-end and drugstore products and she'll always tell it like it is. Also, she got engaged a couple of weeks ago and I'd be lying if I said I didn't cry. Check out her YouTube channel here! Anyway, this bronzer gives me a summer glow in the month of March. It goes on ultra smooth like buttah and doesn't look too muddy. Such a great bronzer for such a great price. Available at your local drugstore, here, and here for about $14.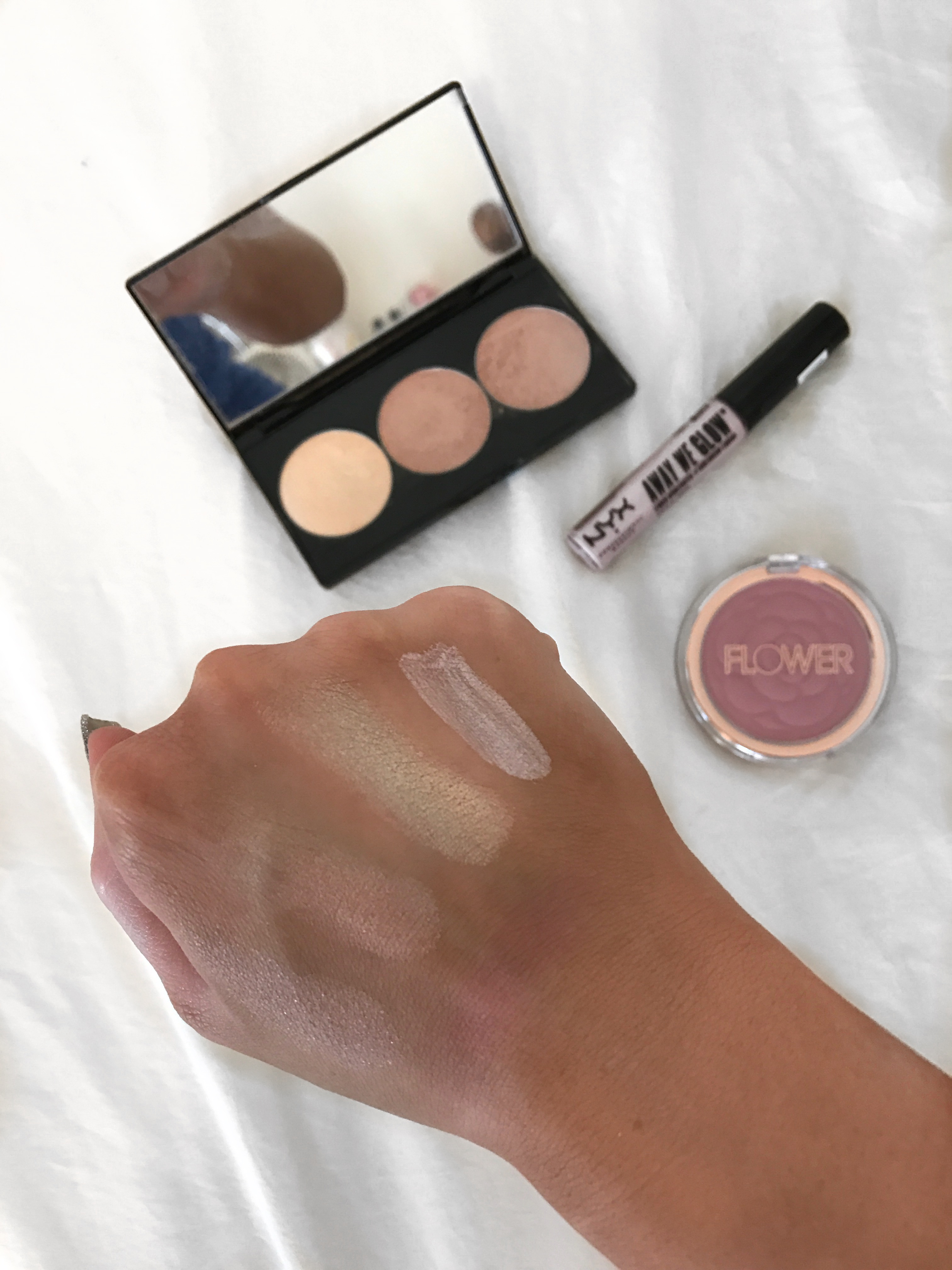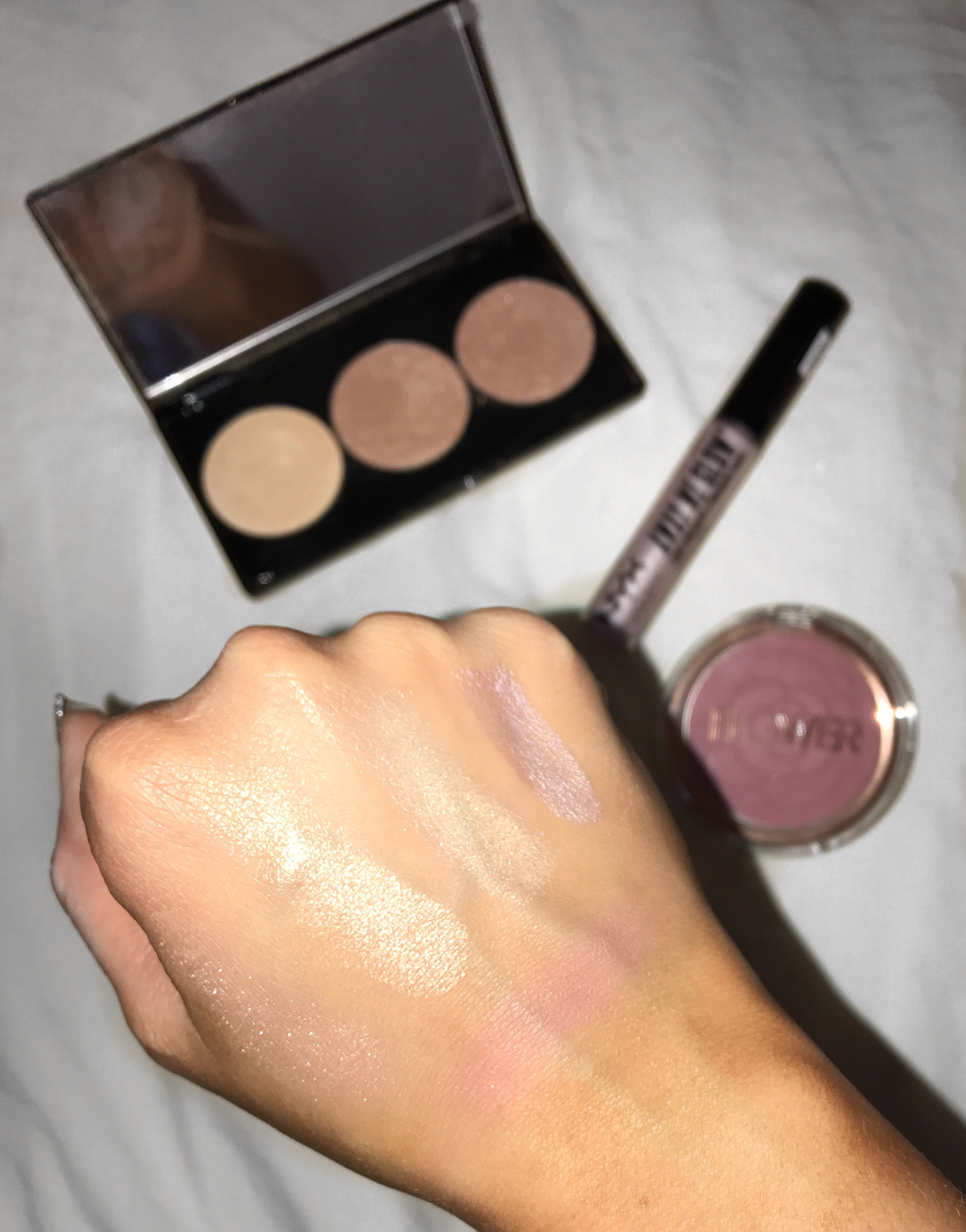 Flower Beauty Blush in Sweet Pea
Another #CaseyMadeMeBuyIt product, this blush is very pigmented and is just a nice flush color. I've been into a more pinky glow lately, as you'll see in the next few products, and this goes great with so many looks. Flower Beauty is killing it with every product I've tried so far so I can't wait to try more! Available in Walmart stores and here for about $9.
NYX Away We Glow Highlighter
After asking a fellow comette what highlighter she uses, I went out and picked up this product. It is very pigmented so if you don't want to look like a disco ball, I'd use this with a light hand. It also dries fairly quickly so don't dab on too much product at once before blending it in. However, this highlighter in the shade State of Flux provides a great base for my next favorite product on the list when I want more pink in my highlight. Available at drugstores and Ulta for about $7.
Smashbox x Casey Holmes Spotlight Palette in Pearl
Ever since I bought this highlighter, I have pretty much never turned back. So pigmented, doesn't show texture, incredibly stunning. I purchased both the gold and pearl palettes but I have definitely been reaching for the pearl more often. This blog post is basically dedicated to Casey Holmes, since this is her collab with Smashbox so yet another #CaseyMadeMeBuytIt, sorry about that haha, but really, do yourself a solid and pick up this amazing highlight palette. Available here for $35!
Leather Tote from The Topping Tree
I had been eyeing this GORGEOUS leather tote on The Topping Tree's Instagram for quite some time and when I saw there was limited availability left, I immediately went to the boutique to check it out. Of course, I fell in love the second I saw it. It is so well-made, sturdy, and this sucker can definitely carry as many products as you could ever need! You will probably be seeing a What's in My Tote post to go more in depth about it very soon but in the mean time, be sure to check out The Topping Tree's selection of beautiful leather bags on their website here!
Entertainment Favorites
Maren Morris – Hero
Oh, my goodness, I cannot stop listening to this album. This album is on repeat every. single. day. It is so incredibly catchy, well-written, so addicting! Maren Morris has definitely become one of my favorite artists this month (that VOICE!!) and I'm only bummed I didn't listen to her sooner! Country music fans, check her album out, you'll thank me later. If I had to choose a few of my favorites, I'd pick "Sugar," "I Could Use a Love Song," "Second Wind," and "Once."
13 Reasons Why
Edit 4/5/17: I recently finished 13 Reasons Why and wanted to add a note that this show is very difficult to watch. There are parts that may be triggering including scenes depicting sexual assault and suicide. Though it is heavy, I still recommend watching it as the series tackles subjects that are often strayed away from but need to be addressed including rape culture and mental illness. If you are thinking about suicide, please call the National Suicide Prevention Lifeline at 1-800-273-TALK (8255) or the Suicide Crisis Line at 1-800-784-2433.
It's been a little while since my last Netflix binge and when I first saw the trailer for this show, I knew I would immediately get sucked in. I watched the first five episodes in one night and plan to most likely finish it tonight. I was instantly hooked within the very first episode. It has so many powerful messages, twists and turns, and crazy connections and I am very anxious for the conclusion. The show definitely puts some things in perspective for you and I highly, highly recommend giving it a try.
That's it for now! What were your favorite things you tried out this month? I have a new obsession with drugstore products so leave your recommendations down below! See you all next week!
Xo, Natasha