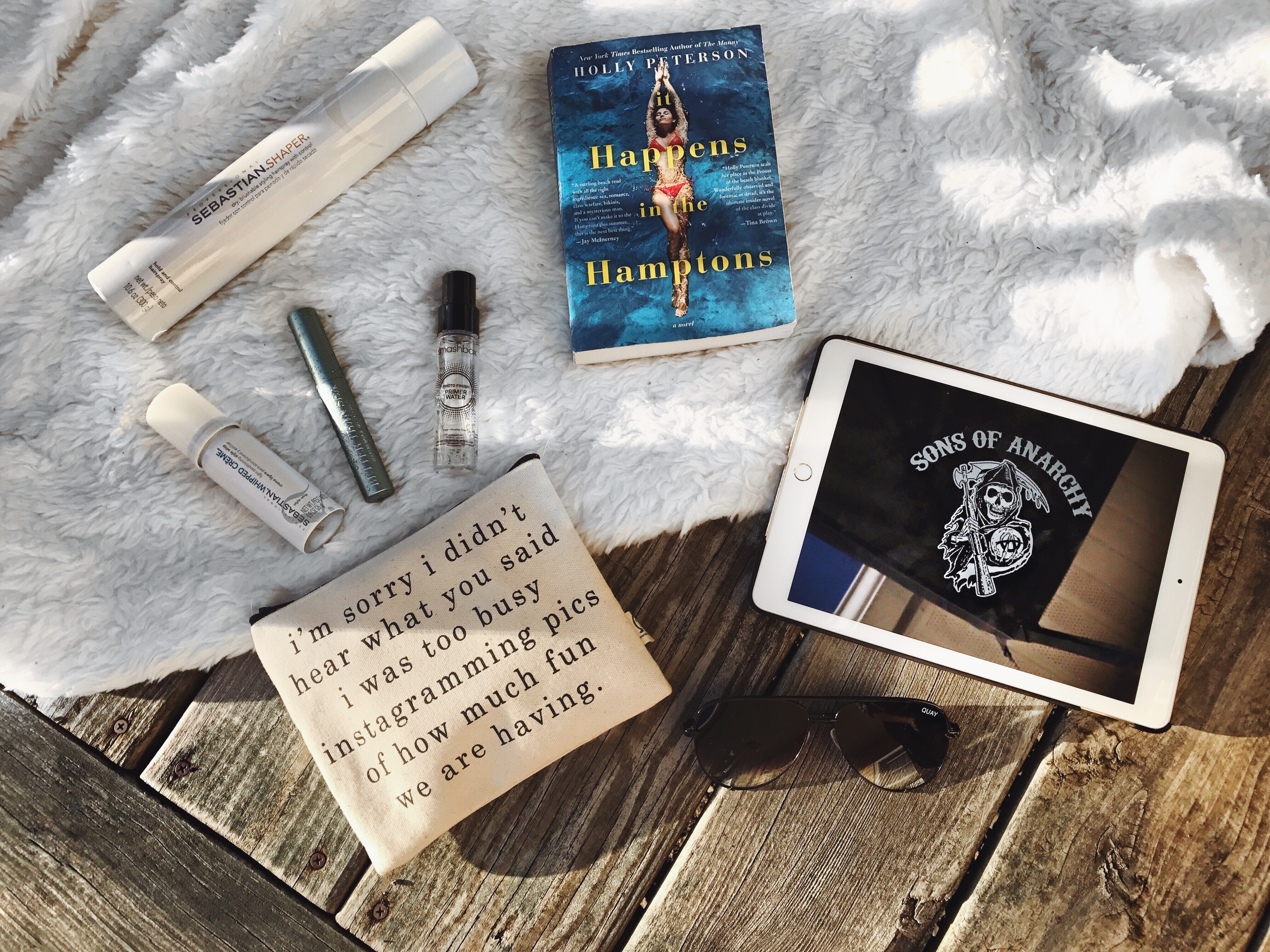 Hello lovelies! I am back to discuss my May favorites with you. But first, can we talk about the fact that 2017 is absolutely FLYING by?! If it could just slow down a bit, that'd be real great. But until I manage to build a functioning time machine, let's jump into my favorite things this month.
Beauty Favorites
Smashbox Primer Water
I initially tried a free sample of Smashbox Primer Water and really liked it but was not completely convinced to actually take the plunge and purchase it. A few weeks later, I received another free sample, but this time, it was a much larger bottle. I figured I would give it another go. Holy cannoli this stuff is gold. My makeup goes on nice and smooth and stays put ALL DAY. And yes, it works well with drugstore foundation because that's what I use! Plus, the cool mist feels soothing on the skin first thing in the morning. Try this stuff out, you will not be sorry. The travel size is available at Ulta for $16.
Too Faced Better Than Sex Waterproof Mascara
I recently took a break from my eyelash extensions and asked my esthetician what her recommendations were for mascara. The very first thing that came out of her mouth was "TOO FACED BETTER THAN SEX WATERPROOF!" Upon her recommendation, I bought it and good lord she was right. This mascara lengthens, adds volume, and does not flake off by the end of the day. Since it is waterproof, I recommend using a makeup remover to take it off at night like Clinique Take The Day Off. The online reviews complained this mascara was stubborn to take off but I have no issues when I use a makeup remover. I honestly thought I could not find a mascara I loved more than Benefit's They're Real but boy was I wrong. Too Faced Better Than Sex takes the cake. Pick it up at Ulta for $23.
Sebastian Shaper Hairspray
I recently tried out Sebastian Shaper hairspray and it quickly became a favorite. It is the perfect hairspray for when I curl my hair because it holds the curls without leaving them stiff, crunchy, or weighed down. I love spraying my freshly curled locks and then lightly brushing through them to create the perfect beach waves that hold. But before you run to the salon to pick it up, stop! It's available at Ulta Beauty! Get it for $18.95.
Sebastian Whipped Crème
THIS STUFF SMELLS SO GOOD! The formula is so lightweight and I love putting this in my hair when it is damp to help add a little curl and body. This is going to be great in the summer time when I go natural with my hair and the mini size pictured above fits perfectly in your beach bag. Like the hairspray, Sebastian Whipped Crème is also available at Ulta! AND of course there's a sale… Pick up the hairspray and this product and you get another Sebastian hair product for FREE!
Fashion Favorites
Quay Australia x Desi Perkins Black Fade High Keys
The SECOND I saw these sunnies on Quay Australia's Instagram, I knew I needed these sunglasses in my life. When they came in, I loved them even more than I thought I would. I especially liked that they are all black so they can go with silver, gold, anything really. The gradient effect is so unique and I always get compliments when I wear these babies. Do yourself a favor and get you some High Keys. I purchased mine from the Quay Australia website but they are sold out there. I did a little more digging and found them on Princess Polly Boutique and on back order at Nordstrom!
Pamela Barsky Pouches
If you read my What's in my Tote post then you know I love to organize my bag with pouches from Pamela Barsky. The ironic sayings are hilarious and it always puts a smile on my face every time I reach for something in my bag. At less than $17 a piece, these things are a steal and everyone will ask you, "Where did you get that?" If you're in New York, stop by the Chelsea Market to pick one up or visit her website here.
Entertainment Favorites
Sons of Anarchy
Add this to the list of things my boyfriend Cody has influenced me with… Sons of Anarchy is a fantastically written, gut wrenching, yet at times hilarious, and powerful series that I have been loving (nearly) every minute of. We've been taking forever to finish but we have just started the final season and sh*t is about to get REAL. Add this to your Netflix list. It will make you laugh, cry, scream, and stress you the eff out. (But it's totally worth it, I promise.)
It Happens in the Hamptons
It Happens in the Hamptons was a perfect start to my summer reading series. If the cover art alone is enough to get you to pick it up, the swift dive into a steamy summer fantasy in the Hamptons will get you hooked. The class divide gives me Gossip Girl vibes while the sizzling romance scenes keep me coming back for more. Add the shocking twists and you got yourself the perfect beach read. Available on Amazon for $10.15.
That's all for my May favorites! What is a product you couldn't stop reaching for this month? Any Netflix recommendations? Let me know in the comments below! See you next week, beauties!
Xo, Natasha
Useful Links
My Social