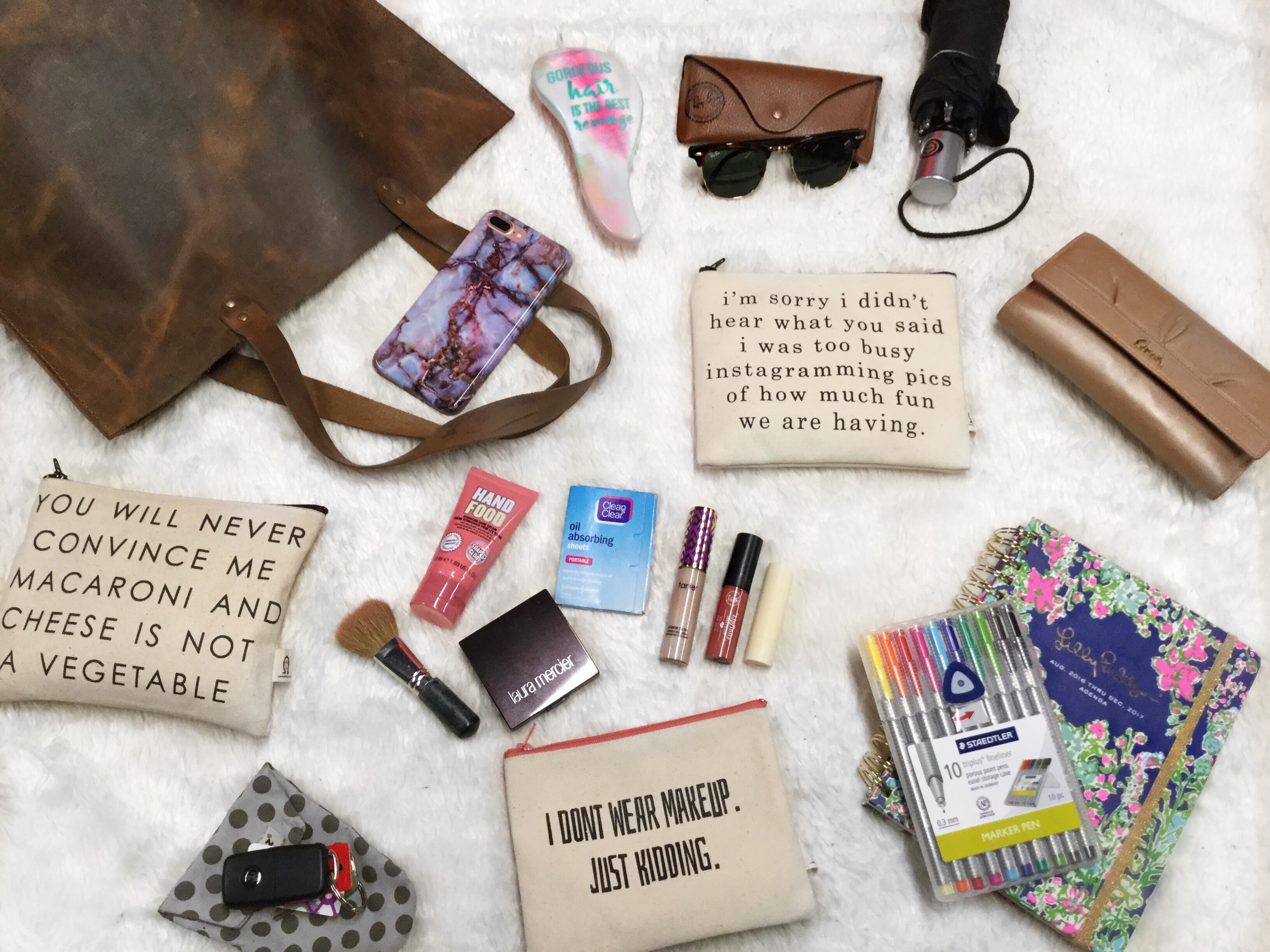 Happy Monday, lovelies! I am back with one of my favorite type of posts, a "What's in my Bag Review!" I have a weird obsession with watching these videos on YouTube. It may be creepy, but I just love finding out what everyone carries in their handbags. I posted one a couple of years ago and I figured when I purchased this BEAUTIFUL tote from The Topping Tree, I would do a little refresher on what I carry with me every day!
So first off, this is an absolutely gorgeous bag that is both equally durable and stylish. It carries everything I could ever need and I always get compliments on it. The tote is completely handmade by Crystal Moore of Lock & Key Leathers, a small studio located in Kingston, NY. There is something so stunning about a handmade leather bag and it fills me with pride to know that I could support two local, women-owned businesses with this piece. The second I saw it in The Topping Tree, I knew I needed it.
Because of the size of this tote, I try to keep the contents organized by putting them in pouches. Pamela Barsky, an artist in New York City, creates these perfectly sized, sarcastic and sassy pouches that I love organizing my bag with. The Instagram one pictured above couldn't be more me. And they are super affordable. The Macaroni and Cheese and Instagram pouches were $16.50 each and the Makeup one has a leather back so it was $24. Though she is not local to Utica, I love supporting independent artists and designers and highly recommend picking up a couple of her pouches.
Now, onto the good stuff! Check out my everyday essentials!
iPhone I have the iPhone 7 Plus. Let me know if you'd like to see a what's on my iPhone/How I edit my Instagrams post in the future! My phone case is linked below.
Wallet Pretty self explanatory! This one is an older one from Coach that holds all of my cards, cash, and my checkbook. I've linked similar ones down below!
Agenda Lilly Pulitzer agendas are my FAVORITE! They are colorful, fun, and make you want to stay organized.
Markers Color coding my agenda is kind of my thing. (Natasha, your perfectionism is showing…)
Sunnies For those sunny days that are hopefully coming soon to Central New York!
Brush I love the tangle teezer type of brush. I picked this one up at TJ Maxx. It is not excruciatingly painful to brush my hair with these and it's true what they say about gorgeous hair… it's the best revenge 😉
Keys Because I don't want them to scratch up anything inside my bag, I put my keys in this easy-to-find polka dot pouch. Not going to lie, this pouch came with a box of tampons. #SoRelatable
Umbrella Because Central New York weather is the most unpredictable.
Makeup Pouch: My tool kit.

Oil Blotting Sheets – For when you get shiny!
Powder – I purchased this Laura Mercier powder solely to keep in my bag if I need it. My Coty Airspun powder is not exactly travel sized so this is a great compact with a mirror.
Brush – This specific brush came in a Bare Minerals kit. If you keep powder in your bag, it's a good idea to keep a mini kabuki brush with you too!
Concealer – I don't know why I was so late to the game but Tarte Shape Tape Concealer is worth. the. hype. Great coverage and lasts all day. I keep this in my bag for any touchups.
Lip Balm – I have a funny side story for y'all. So back in November, I went to a work event where we received gift bags. Inside them was a vanilla bean lip balm with a Carbone Auto Group label on it. Turns out, it's the best damn lip balm I've ever used. Unfortunately, I can only purchase them in bulk (yes, I looked it up) so I have since been on the hunt for the perfect vanilla bean lip balm to replace my Carbone one. This EOS one is not as vanilla-y as the Carbone one but it does the trick for now. (Side note: thank goodness for the new EOS packaging because that egg thing is not the most convenient to carry.
Lipstick – I always carry whatever lip I am wearing in my makeup bag. This specific one from J.Cat Beauty (again, thank you, Casey Holmes) is AMAZING! It lasts all day, has great color payoff, and smells like a cinnamon cupcake. And the price? IT'S $5! Available at Ulta.com.
Q-Tips – I always keep these in my makeup bag to correct any mistakes when reapplying lipstick or clean up any smudged eyeliner.

Macaroni and Cheese Pouch: This is sort of my medicine/health pouch.

Hand Lotion – Soap & Glory's Hand Food is my holy grail hand lotion. It smells amazing and is incredibly moisturizing. Love the mini size for keeping in my bag.
Hand Sanitizer – No spreading germs here!
Tissues – When spring allergies kick in, a mini pack of tissues are great to have on hand.
Hair Ties – When you're just over having your hair down, when you go to the gym, or when you just need to concentrate and put your hair up, hair ties are always there for you. Until the magical hair tie fairy takes them away never to be seen again. That's why I try to keep at least two in my bag!
Excedrin – I get headaches very often so these save me.
Advil Cold & Sinus – Because I like to stop it in its tracks, I keep a couple of these with me if I unexpectedly get hit with a cold.
Floss – Because chicken wings.
Tampons & Pads – Because I'm a girl and periods are a real thing.

Instagram Pouch: For everything else!

iPhone Charger – Because you never know when you might need it!
Business Cards – Always networking!
E-ZPass – I do quite a bit of traveling and sometimes my boyfriend drives so I oftentimes have to keep the E-ZPass in my bag.
So that's what's inside my Mary Poppins tote bag! What can you not leave home without? Let me know in the comments below!
Xo, Natasha

Useful Links
Tote Details
My Social